We Love Astronomy Posters!

They are beautiful, sometimes mysterious, always wonderous, and an inspiration to learn and do astronomy. So, we are delighted to have found a source for some fabulous astronomy posters and prints.

The Milky Way Panorama. A 360 degree view of our galaxy.
This is a specatacular composite image of the Milky Way Galaxy, from the inside. It shows a full 360 degree view of the home galaxy, in all its splendor. This poster is large at 60 by 16 inches and would look great on anyone's wall at home, in the observatory, or at work. You will find this poster at Museums and telescope stores for up to $24.95. It is available from Milky Way Images for $16.00 each for paper and $24.00 for laminated, plus shipping. They also have 4 ft and 7 ft ink jet prints of the same image.
For more information, visit: www.milkywayimages.com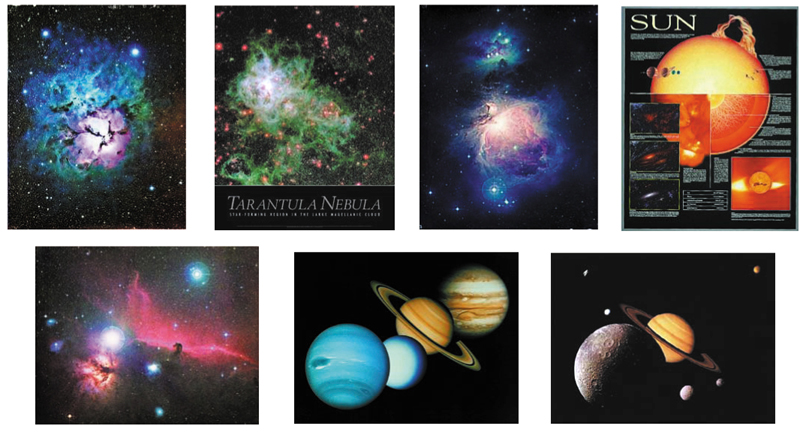 1 = M20 - Trifid Nebula, 2= Tarantula Nebula, 3= Orion Nebula, 4= The Sun,
5= Horsehead Nebula, 6= The Gas Giants. 7= Saturn and 6 Moons.

The posters above are from the Hansen Planetarium. They are some of our favorites. These posters sell in mail order catalogs and stores for up to $16.95. Milky Way Images sells them for $10.00 each, plus shipping. The posters are 22.5 x 29 inches in size and printed on heavy poster stock. For more info and more posters, go to: www.milkywayimages.com
[ PC Cables ] [ mySKY Cables ] [ Ordering ] [ Posters ] [ Cable Home ]