Connect your mySKY to a Meade GoTo telescope!

Meade describes the mySKY as a personal planetarium and a multimedia tool. But it will also control a Meade GoTo telescope. That is something that can be very useful, especially with a line of impatient kids waiting to look through the eyepiece.
After your telescope and your mySKY are both aligned, you can point the mySKY at an object for a few seconds and pull the trigger. The mySKY sends GoTo commands to the telescope and it will move the telesocpe to the object.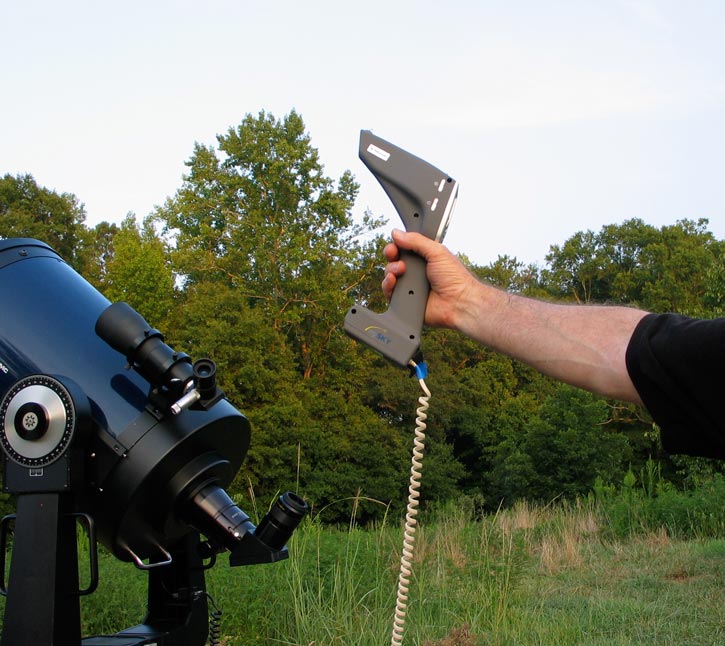 This picture shows the mySKY connected to a LX200 and ready to GoTo.
We now make the cables necessary to connect your mySKY and your Meade GoTo telescope. We make two flavors of the cable:
We make a cable that will connect the mySKY to the LX200 familily of telescopes, and to the RCX400 scopes. This includes the LX200 Classic, LX200 GPS, LX200R, and and the LX200-ACF families. This cable will also work with the RCX400 and MaxMount telescopes.
We make another cable that will connect the mySKY to the Meade telescopes that use the Autostar #497 hand controllers. This includes the ETX 90,105, and 125, the LXD 55 and LXD75 mounts, and the LX90 Classics and LX90-ACF families of scopes.
Our cables are coiled, so they are about 6 feet long when unstretched and can stretch to about 25 feet when fully extended. They are also light colored to help avoid tripping or catching in the dark.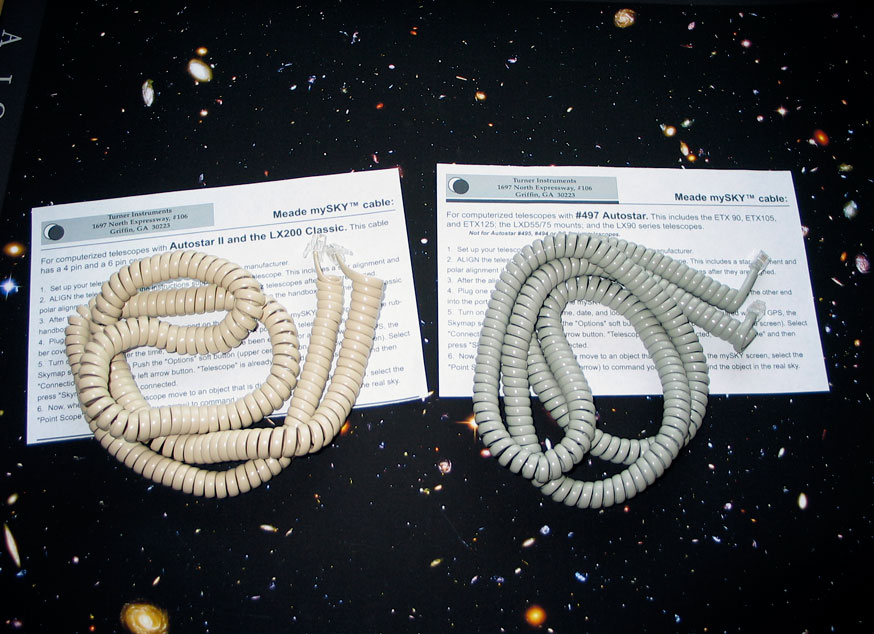 These are the mySKY cables that we make.
Our cables are individually tested to assure that we rarely ship a bad cable, and you only have to buy the cable that you need. We do not make cables for the smaller Meade telescopes that use the Meade #506 serial cable, such as the ETX70, ETX80, and the DS series. The cables for these telescopes require a proprietary part that we cannot duplicate.

Pricing
The price of each cable is $18.00 for the 25 foot coiled cables. Shipping in the US is $7.00 for Priority Mail. Enquire for special discounts for multiple cables. New Mexico residents, please add sales tax: 7.25% is about $1.31.

To Order
Visit our ordering page above, or click HERE.

Questions?
If you have any questions, contact us at: info(at) stellanova.com
[ PC Cables ] [ mySKY Cables ] [ Ordering ] [ Posters ] [ Cable Home ]