Connect your Computer to a telescope!

We make serial telescope interface cables to connect a PC or a Mac to a GoTo telescope. Visit our Ordering page for a complete price list or scroll down for a description of the cables available. These are good quality serial cables that are about 25 feet long. Our telescope cables are more than 3 times longer than those from Meade and Celestron, making them far more useful and practical. Our cables will work with all major software programs that communicate with a telescope. If you have a PC or Mac without a serial port, you will need a USB to Serial Adapter. We recommend the Keyspan current model 19-HS or the older model 19-QW. We have tested our cables with these adapters but others may also work.

Cables can be extended if you need extra length. Meade says that you can extend a cable to about 75 feet. We have heard of longer cables under the best conditions. We make longer cables on request, up to 100 feet. If you think you need a cable longer than 100 feet, you should consider alternatives, such as a local area network based on ethernet or wi-fi. For info on longer cables, send us your requirements for a price quote(info<at>stellanova.com).
The family of PC style cables with a USB to serial adapter. These same cables will work on a Mac also.
We make telescope serial cables (PC and Mac) for most commercial GoTo telescopes:

1. Meade LX200 family: These serial telescope interface cables work with LX200 Classic, GPS, R, ACF and models with Classic AutoStar or AutoStar II controllers and the Magellan encoder box. Our telescope cables are pin compatible with the Meade #507.

1a. For the Meade RCX400, LX600, and LX850, families of telescopes.

2. Meade LX-90 family: These telescope interface cables work with Autostar #497 hand controller. This includes the LX90 Classic, GPS, R, and ACF models, and the newer LX80 and LT Series telescopes. Our serial telescope cables are pin compatible with the Meade #505.

3. Meade LXD-55/75 family: These telescope interface cables will work with the LXD-55 or LXD-75 german equatorial mounts with Autostar #497. Our telescope cables are pin compatible with the Meade #505.

4. Meade ETX family(larger models): Our cables will only work with the ETX 90, ETX105, and ETX125 (these scopes have the AutoStar #497 or #495 controller and also use the Meade #505 Cable Connector). Our cables will NOT work with the ETX 60AT, ETX 70AT, ETX80AT, and the Digital Series Telescopes because they require the Meade #506 Cable Connector. The #506 cable is a proprietary cable that has a small circuit board inside the cable that cannot be duplicated. We do not know of anyone who will supply a cable to connect a serial port to the ETX 60AT, ETX 70AT, and similar small telescopes, except the Meade #506. It may be possible to make an adapter, but it is not worth the effort commercially, since these models are generally a poor choice for an astronomical telescope.
In summary, if your telescope (ETX, LX-90, or LXD55/75) will work with a Meade #505 cable, it will work with our cables.


5. Encoder systems: Our cables will work with encoder boxes from some manufacturers (they work with the Lumicon SkyVectors, the Celestron AstroMasters, the JMI Max, the Orion SkyWizards, and a few others). The encoder box needs to have a serial port -(a few models do not.)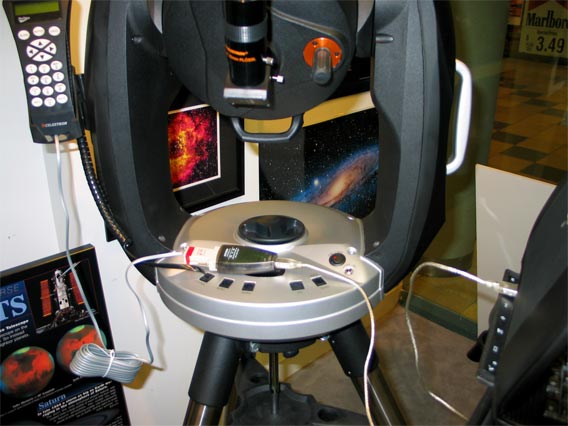 The Nexstar CPC and Advanced Series GoTo models use the same cables as the other Nexstars

6. Celestron NexStar telescopes: including Nexstar CPC models, Nexstar GPS models, the CGE mounts, the CGEM mounts, the AVX mounts, the Nexstar 4, 5i, and 8i models, the Nexstar SE models, and the Advanced Series GT. Celestron made the intelligent decision to use the same cable for all their GoTo mounts. Even the small telescopes intended for beginners use the same cable. You will still need software to talk to the mount, but the cables are all the same.

6a. The Celestron NexStar CGE, CPC, and GPS telescopes have a port labeled "PC". Defying logic, this port is NOT used to connect the cable that controls these telescopes from your personal computer. Rather, the "PC" port is used for the Celestron "Programming Cable". Yes, we now make the Progamming Cable in a 14 ft length and they cost the same as the other cables. In order to use the cable, you need to download the update and the updating program from www.celestron.com. You should only need this update if you have an older Nexstar GPS or if Celestron releases a new updater for newer Nexstar telescopes.

7. Celestron Ultima 2000. Although this model is discontinued, some people love them. This is the one exception to the Nexstar cable statement above. This cable is different, but the mounts are no longer manufactured.

8. Gemini GOTO systems: Losmandy or Mountain Instruments make GoTo mounts with the Gemini control system.
9. Skywatcher and Orion mounts with SynScan controller systems: These include the EQ5P and EQ6 Pro from Skywatcher and the SkyView Pro and EQ-G GoTo mounts from Orion.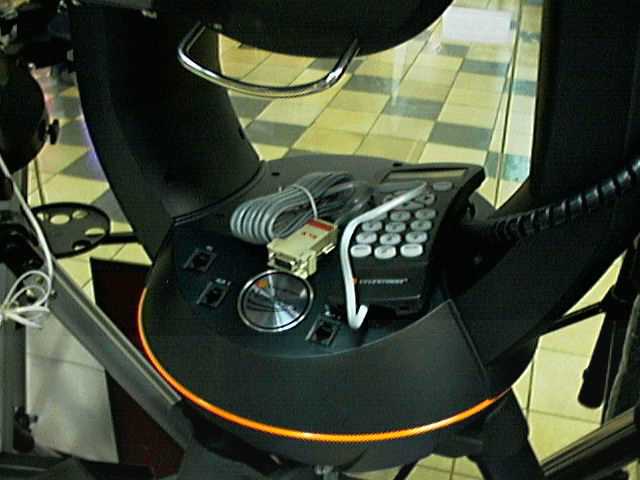 The picture above shows a Nexstar 8 GPS with cable connected. Note that the Nexstar cable connects to the bottom of the hand controller and NOT to the port on the base labeled "PC".
Older Macintosh Computers:
If you have an older Mac that uses the special 8 pin DIN serial cable, we still make them. For more information, click here.

Pricing
The price is $20.00 for the 25 ft cable. Shipping in the US is $7.00 for Priority Mail. Enquire for special discounts on multiple cables. New Mexico residents add sales tax, 7.25% is about $1.45.

To Order
Visit our ordering page, or click HERE.

Questions?
If you have any questions, contact us at: info (at) stellanova.com
[ PC Cables ] [ mySKY Cables ] [ Ordering ] [ Posters ] [ Cable Home ]